ABOUT US
Master electricians team with 20+ years of experience
HOWDY,
Greetings from
Trilect Energy
Trilect Energy is a division of Trilect Services Ltd. We are 'Master Electrician' qualified member in New Zealand, based in Auckland, with offices in East Tamaki. The company began in 1997 and became one of the first in New Zealand to receive accreditation as a Master Electrician.

Trilect stocks the full range of world leading electric products to suit all your energy, ventilation & heating needs. With expertise in electrical field, our can provide the most effective and efficient energy solution for your project.

Get in touch today and let see what we can help you with!
MISSION & VISION
Our mission is for Trilect to be a results orientated company that continuously trains its staff towards optimism, creativity, thinking outside the box for solutions, and creating a great experience for all our customers in an open and ethical manner.
Our vision is to become a market leader in the electrical industry by providing a first-class experience to our customers, to have the company running so efficiently with procedures that an enthusiastic team member could run and grow the company with little training.
CORE VALUES
Chosen and selected as a group by our team
Customer
FOCUSED
Our guarantees and staff training ensure you receive an experience not to be beaten.
Yes
WE CAN
We love dirty jobs, we love difficult jobs, we can turn up last minute to urgent breakdowns.we love dirty jobs, we love difficult jobs, we can turn up last minute to urgent breakdowns.
Don't take
THE MICK
Work while you are at work, treat the customers as they are paying your wages for dinner tonight, enjoy your job and have fun.
Work as
A TEAM
Ensure you work your best and hardest to help your colleague next to you, volunteer to climb into that stinking hot roof, jump into that muddy trench and start digging.

FULL FREE HOME ASSESSMENT
Many other companies when quoting do not get under your house or up in your roof space! This is vital to quote accurately and correctly.

EXACT APPOINTMENT TIMES
When booking your appointment, our team will give you an exact date and time that we will be there to quote or install.

FAST TURN AROUND ON QUOTES
We aim to leave a quote on the day we meet you. Which means you'll have the opportunity to get your system installed or repaired sooner.

LICENSED INSTALLERS AND TECHNICIANS
Fully licensed, carry all the necessary insurances and experienced installers and technicians means you'll end up with a high-quality installation or repair job every time.
WHERE TO GO FROM HERE?
Contact us today to arrange an appointment with our technician. There is no obligation to work with us after the meeting. You won't be tied into any contracts at this stage.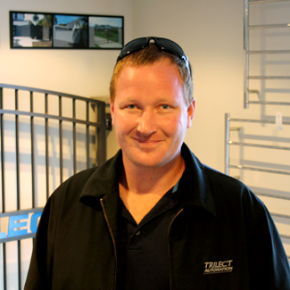 "You need an attitude of service. You're not just serving yourself. You help others to grow up and you grow with them."
Peter McInally
Managing Director of Trilect Energy Auckland